I got a call last week from someone about the stuffed animal hospital. They must have come to this page and not the hospital page or tumblr (here), since they thought I hadn't updated anything for a year. That's when I logged on here and figured out that nope, I'd been so busy I hadn't written an update since January! I'm so sorry! I hope most of you have followed the links at the left to the hospital and the tumblr where you can see many many of my patients in before and after shots. Honestly, the hospital home page is mostly updated with kind words from patients and their people, and it's great to read if you're feeling blue. The Hospital Blog has all the photos and much more detailed stories. So please do check them out!
This year I've treated over 520 patients! Lions and tigers and bears and Raggedies and Best Friends and unidentified stuffed lovies. So, you can see why it took me some time to update this! They came from as far as Hungary, and flew home to places like Iceland. The states with the most patients were California (makes sense, they have the shortest flights) and Texas. Again, all the photos are on the blog, and all the comments are on the hospital page, but here I try to feature custom dolls, so I thought I'd show you the most recent one. She's a sweet little clown who was a twin. The original lives with her person, and I only ever saw a 25 year old photo of her. This twin was made for the original owner's new baby. It was ordered as a surprise by Grandma.
Here she is: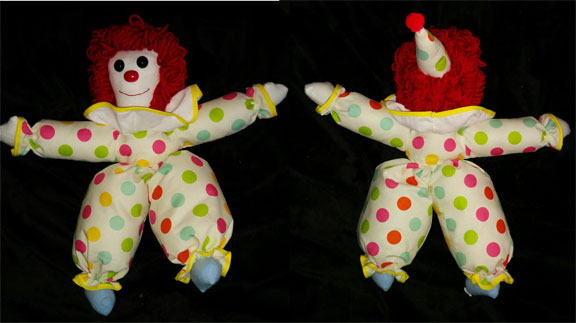 And when the new clown made it home to Massachusetts, Grandma wrote:

The clown just arrived and it is better than I could have imagined!

I hope you all have a wonderful 2017!