Stuffed Animal Patients
Our motto is the same as people doctors:  first do no harm. We will not begin work on your stuffed animals without your preapproval.
Some patients just need a nice spa treatment (cleaning and fur fluffing). Others need an eye transplant (like the tiger below). Many patients come to us with fur damage. We do not remove existing fur, no matter how worn, but rather apply a new layer, recovering the animals and strengthening them. Treatment can be as much or as little as you would like. Sometimes people just want their stuffed animal's wounds stitched, and scars are wonderful. Sometimes they want the stuffed animal completely recovered so a new generation can enjoy it. Sometimes, the request is something in between. I will communicate with you throughout your stuffed friend's hospital visit, so we do as much, or as little, as you would like. Stuffed animals come in a broad range of colors and textures, but we try to match new furs to your memories of your friend's original coloring and feel.
No matter what injury has befallen your beloved teddy bear or other stuffed friend, please do call 650-996-2280 or email the hospital at hospital@realmsofgold.com for a free consultation. And remember, I won't do anything to your animals that I wouldn't do to my own. That's my furry teddy bear down at the bottom of the page!
Check out this great blog post about one of our patients, Lamby. Thanks to Daisy, Lamby's person and an amazing writer.
Want to see even more before and after photos?
My hospital blog shows the transformations and various surgeries that my patients undergo, as well as some of the funny stories from the hospital. Check it out at doctorbeth.tumblr.com.
Before and After: A Bunny from Georgia
This small, 8″ terry bunny needed new ears, new stuffing, a full recovering, and new nose stitching. Her young mistress sent her with toys, two friends, and a Halloween costume! She's happily back in Georgia now.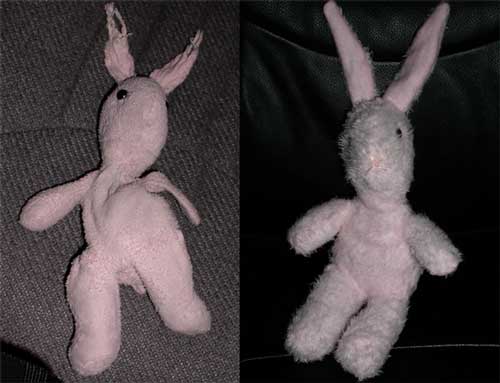 Before and After: Another Bunny
Bunnies are a popular buddy! Here is another from arrival through complete recovery. She came from Indiana, also with companions. Now "She's perfect!" say her family.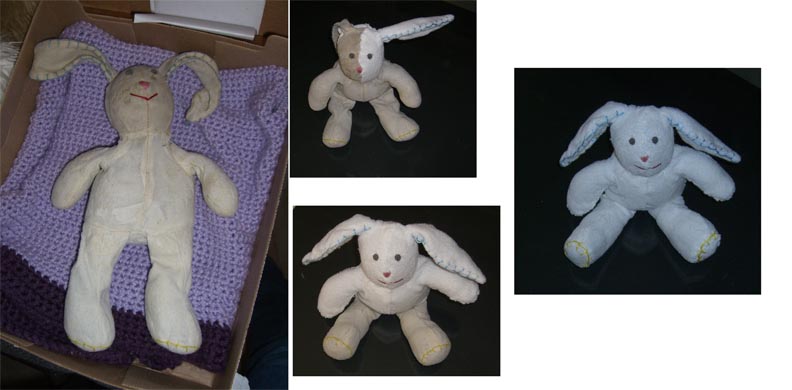 Before and After: Snoopy Repaired and Cleaned
Snoopy arrived brown, with his neck hanging by a thread and no nose. His clothes were as dirty as he was! After a thorough surface cleaning for Snoopy and some minor surgery, he is white and fluffy, with a brand new nose. His clothes were soaked several times to remove the dirt as well.
"You did a fabulous job, he's better than ever!" say Snoopy's people in California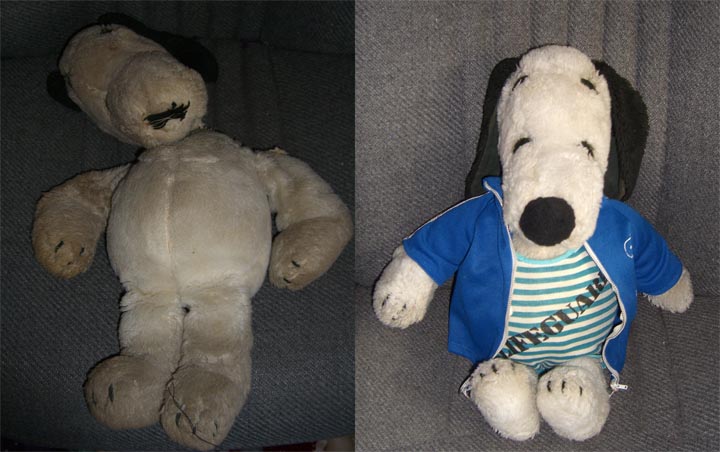 Alternate Snoopy: Before and After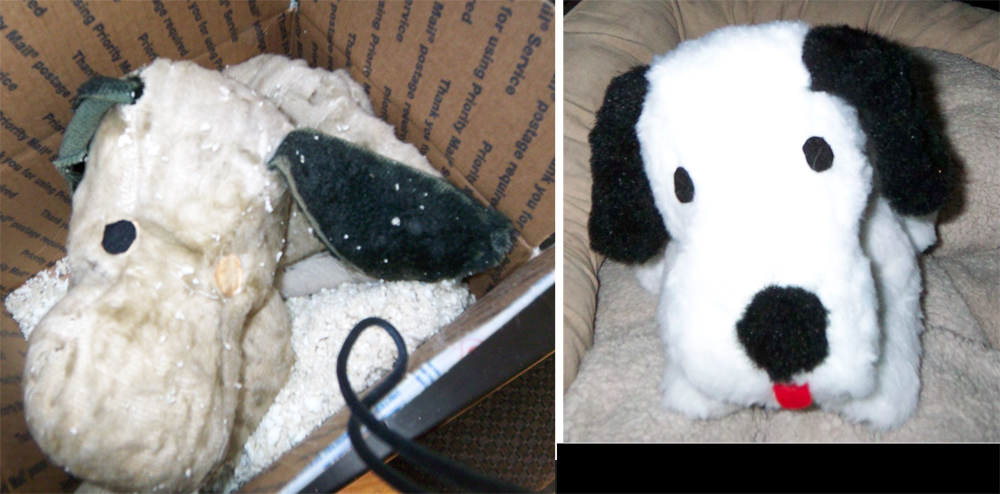 "He looks really good. You did a great job on him! Thank you so much!"
Cyndi in Colorado
Before Back, Front and Back After: Bear Repaired and Restored
This 30+ year old bear needed his fabric repaired, a new nose, and a good cleaning and fluffing.

Before and After: Eye Transplant
Sher Khan the tiger came to the hospital blind. Within four days he was headed home to his young person. His hand drawn thank you note is on display in the hospital.

My Teddy Bear!
I was inspired to learn teddy bear repair when, almost 20 years ago, the local bear hospital wouldn't touch my teddy bear. You can see how I've rejuvenated him myself below. And you can meet him in person at the hospital any time!

We've had so many nice comments like those above, I've decided to give them their own page! Please click here for more kind words from our former stuffed animal and doll patients and their people!
Want more information or a free estimate? Please e-mail us at hospital@realmsofgold.com. Or call us at (650) 996-2280.