Paul Bunyan and Babe the Blue Ox
A Topsy-Turvy Doll, Standard Doll, or Hand Puppet
Based on the American tall tale, Paul Bunyan turns over to reveal his trusty friend, Babe the Blue Ox.   It is a doll and stuffed animal in one huggable creation. The pair met when Paul found Babe starving and freezing to death in the middle of a blue snow storm.  He nursed the ox back to health and Babe grew to be nearly as big as Paul!  This doll/stuffed animal is approximately 11″ tall when standing upright.  As with all of my dolls, this is my own copyrighted pattern.  The doll comes with a brief biography of Paul Bunyan in a small, handmade book.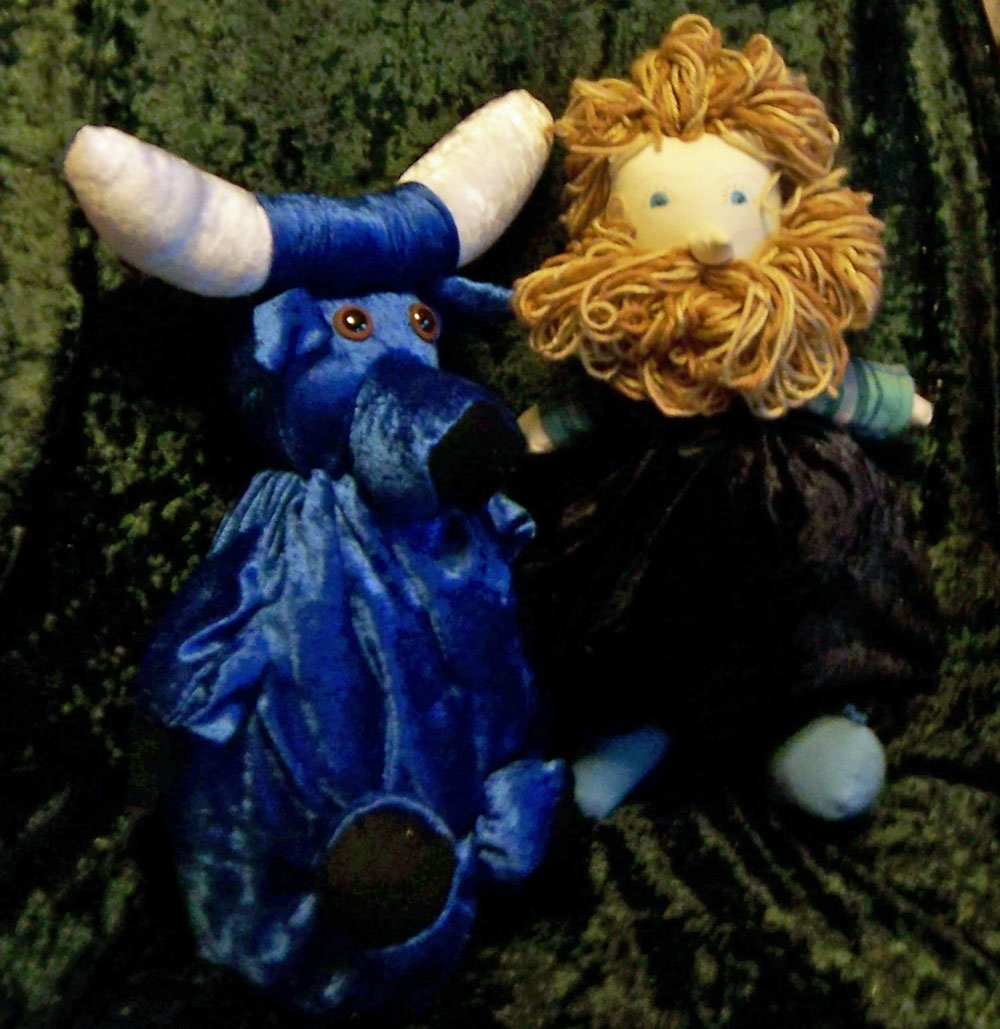 Paul Bunyan and Babe the Blue Ox, $50
**********
Paul and Babe are also available as individual stuffed animals. Paul is approximately 14″ tall. He is wearing overalls with functional pockets in the back. Babe is approximately 10″ tall.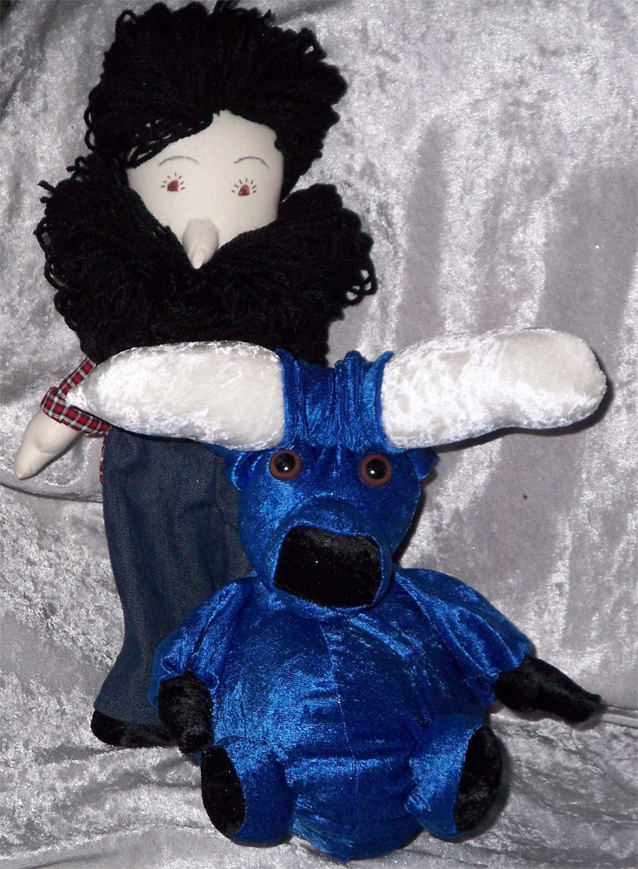 Paul Bunyan doll or Babe the Blue Ox Stuffed Animal, $40 each
**********
Babe the Blue Ox is also available as a single hand puppet. He also comes with the Paul Bunyan story. Approximately 12 inches tall, this puppet is lined with soft terry cloth.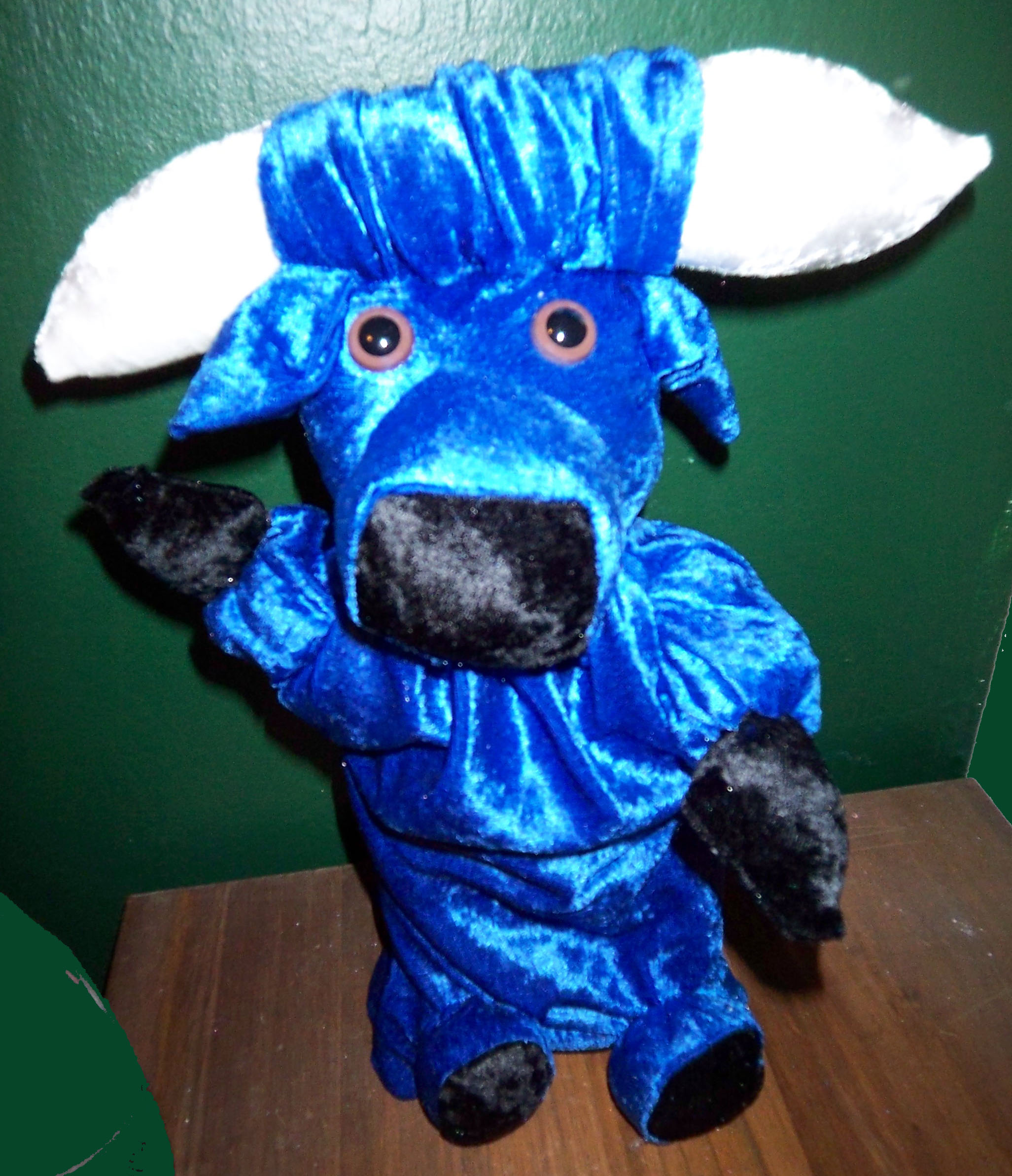 **********
Most of our dolls and stuffed animals are reversible dolls.  If you see two or more characters in a photo, that means there are two or more characters in one doll.
All topsy-turvy dolls, regular dolls, stuffed animals, and hand puppets are made to order, so you can order a custom doll with your choice of hair, dress, skin and eye colors.  Just let me know!  Please keep in mind that colors may vary slightly.
For more information on any of our dolls and puppets, please feel free to e-mail us at
Realms of Gold.
Or call us at (650) 996-2280.