The Good Witch and Wicked Witch
A Topsy-Turvy Doll
Many fairy tales and novels have the dual characters of good witches or fairies and evil witches.  This doll was designed for those stories, and for another reason.  She is a mood reporter.  Her turn her over to display your mood for the day, happy or mad.  Your family and friends will appreciate the early warning system!  As an aside, this doll has proven most popular with little boys (they like to make the witches cackle) and grown up women.  Approximately 12″ tall.   As with all of my dolls, this is my own copyrighted pattern.
The Good Witch and Wicked Witch, $50
**********
For a variation on the Witches, check out our reversible Kitchen Witch. She still turns over to go from good to evil, but her clothes have changed to include a very domesticated apron and chef's hat.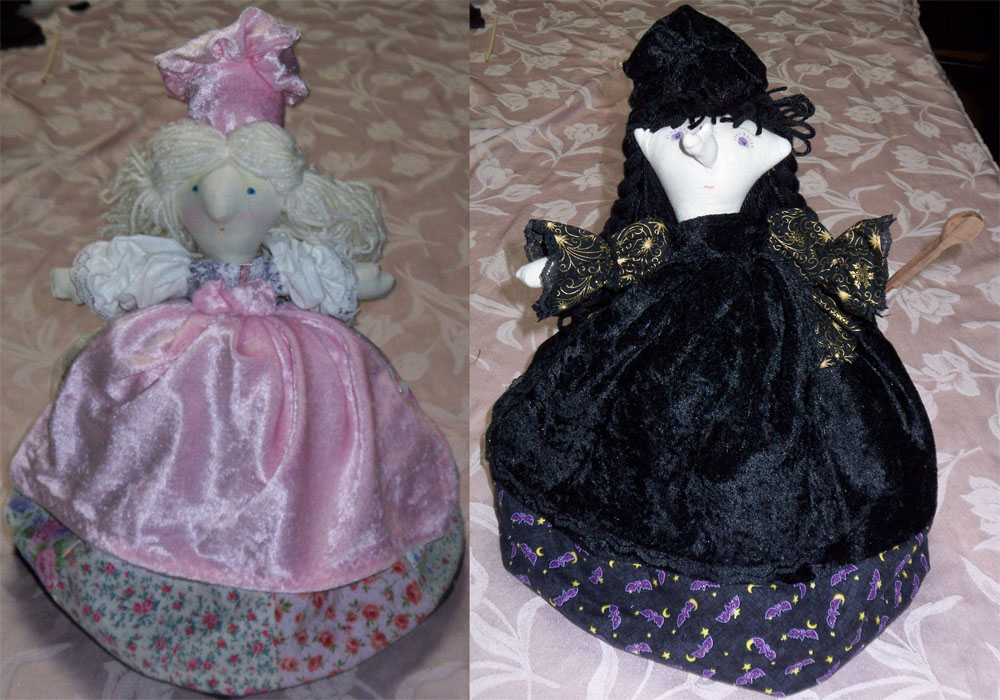 **********
Most of our dolls and stuffed animals are reversible dolls.  If you see two or more characters in a photo, that means there are two or more characters in one doll.
All topsy-turvy dolls are made to order, so you can order a custom reversible doll with your choice of hair, dress, skin and eye colors.  Just let me know!  Please keep in mind that colors may vary slightly.
For more information on any of our dolls and puppets, please feel free to e-mail us at
Realms of Gold.
Or call us at (650) 996-2280.