Dolls from
Asian Fairy Tales
American Tall Tales were some of my favorite stories growing up, and I am slowly adding them to my line.  They make fabulous reversible dolls, because the main characters are frequently tied to an animal of some sort.    So click on the photos below to watch find the story and dolls for Pecos Bill, Paul Bunyan, and Sally Ann Thunder Ann Whirlwind Crockett!   All of our dolls are characters out of stories, immigrants from the books that Keats called "Realms of Gold."  I hope that you enjoy both the dolls, and their stories, and perhaps decide to take a few home with you.
Most of our dolls are reversible.  If you see two or more characters in a photo, that means there are two or more characters in one doll.
To learn more about any doll or story, simply click on the doll's name.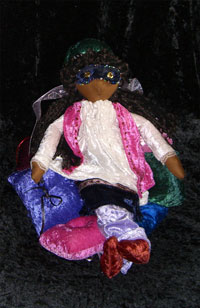 For more information on these or other character dolls, please feel free to e-mail us at Realms of Gold.
Or call us at (650) 996-2280.