Scheherazade: The Teller of 1001 Arabian Nights Tales
Based on the classic tales from Arabia, this is Scheherazade, the heroine and teller of tales. Her dress is inspired by an 18th century chemise a la reine tunic and the illustrations in Andrew Lang's Arabian Nights Entertainments. She sits on a collection of pillows. Both the pillows and her hand beaded mask are removable, as is her over tunic. She is approximately 20 inches tall. The original version of this doll was exhibited at Costume-Con 26 in San Jose, April 2008. As with all of my dolls, this is my own copyrighted pattern.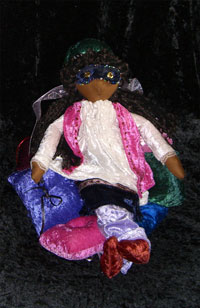 **********
Most of our dolls and stuffed animals are reversible dolls.  If you see two or more characters in a photo, that means there are two or more characters in one doll.
All dolls are made to order, so you can order a custom doll with your choice of hair, dress, skin and eye colors.  Just let me know!  Please keep in mind that colors may vary slightly.
For more information on any of our dolls and puppets, please feel free to e-mail us at
Realms of Gold.
Or call us at (650) 996-2280.