Tokoyo the Dragonslayer: A Japanese Fairy Tale
A Topsy-Turvy Doll
In her story, Tokoyo is a samurai's only child, raised by her parents to fight like a soldier and think like a scholar.  When her parents are banished by the Emperor, Tokoyo sets out to find them, but is sidetracked when she comes across a sacrifice in progress.  Tokoyo takes the place of the young girl being offered to appease the sea dragon, and dives into the ocean with a blade between her teeth.  She slays the serpant who had terrorised the local villages, and is honored by the villages and eventually the emperor.  Tokoyo's parents are allowed to return to the capitol, and the family remained advisors to the emperor for many more generations.  Approximately 11″ tall.  As with all of my dolls, this is my own copyrighted pattern.  Tokoyo comes with her story in a small, handmade book.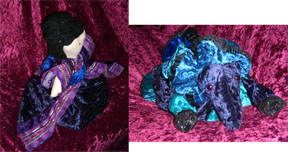 Tokoyo and the Sea Dragon, $50
If you're interested in other dragons, check out The Four Dragons and The Monster Under the Bed.
**********
Most of our dolls and stuffed animals are reversible dolls.  If you see two or more characters in a photo, that means there are two or more characters in one doll.
All topsy-turvy dolls are made to order, so you can order a custom reversible doll with your choice of hair, dress, skin and eye colors.  Just let me know!  Please keep in mind that colors may vary slightly.
For more information on any of our dolls and puppets, please feel free to e-mail us at
Realms of Gold.
Or call us at (650) 996-2280.