Avalon – Merlin, Guenevere, Morgan le Fay, Lady of the Lake
A Topsy-Turvy Doll
In the tales of King Arthur, Avalon is a magic island in the middle of a mist shrouded lake.  Merlin is the only male allowed on the island.  This doll is four characters in one, each of whom was allowed on Avalon.  Guenevere is Arthur's bride, Merlin is his advisor.  Morgan le Fay was Merlin's lover, and turned him into a tree.  The Lady of the Lake took Arthur's body when he was mortally wounded, and she will return him to England when he is most needed.  Approximately 12″ tall.  As with all of my dolls, this is my own copyrighted pattern.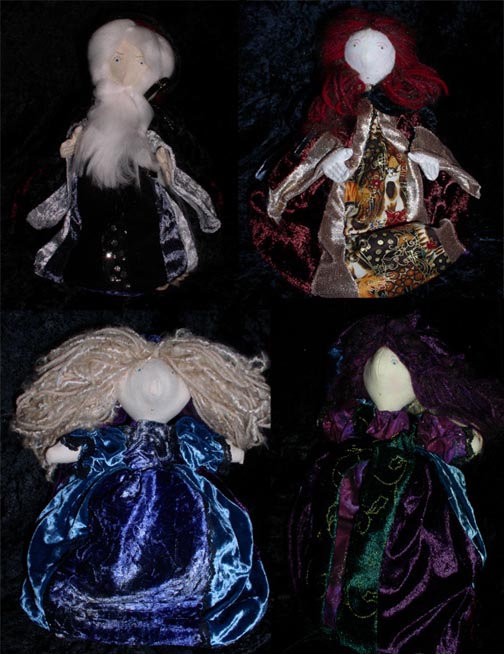 **********
Most of our dolls and stuffed animals are reversible dolls.  If you see two or more characters in a photo, that means there are two or more characters in one doll.
All topsy-turvy dolls are made to order, so you can order a custom reversible doll with your choice of hair, dress, skin and eye colors.  Just let me know!  Please keep in mind that colors may vary slightly.
For more information on any of our dolls and puppets, please feel free to e-mail us at
Realms of Gold.
Or call us at (650) 996-2280.