Cinderella Dolls
A Topsy-Turvy Doll
Cinderella tales are found the world over. The most famous, popularized in movies and on stage, trace back to the legends of Charles Perrault and the Brothers Grimm. I have made a number of reversible dolls based on the classic rags to riches tale. Each is approximately 12″tall and comes with her story in a small, handmade book. If you have any color preferences, please email me directly. All dolls are made to order, so if you'd prefer a lavender Cinderella or a doll with green skin, just let me know! As always, these dolls are all my copyrighted designs.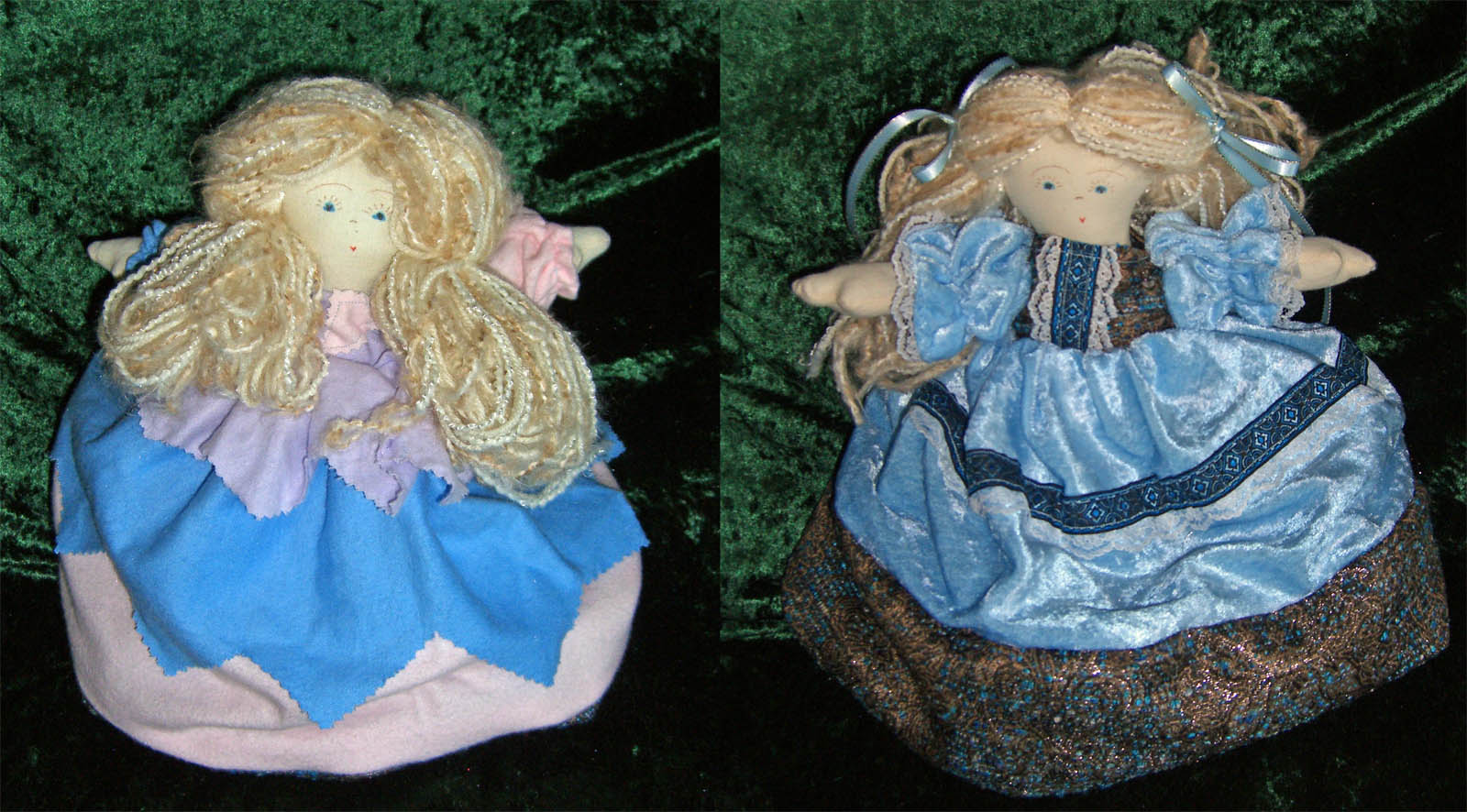 Cinderella, Rags to Riches, $50
The classic Cinderella is a two sided doll who turns from rags to riches when you flip her over.
**********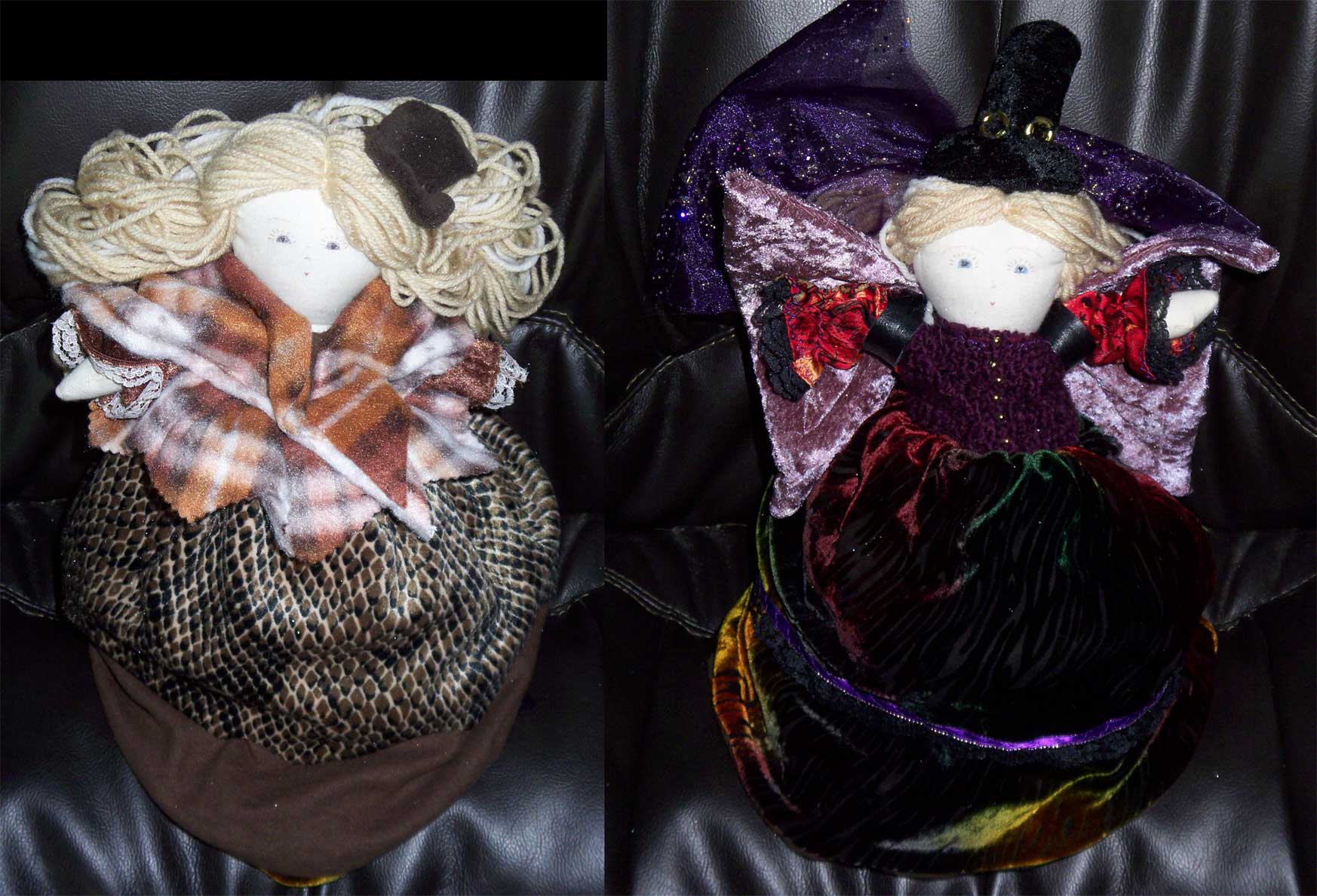 You decide if this reversible 2 in one doll is a steampunk style Cinderella going from rags to riches, or Cinderella and a Fairy Godmother — the wings make it a bit tricky!
**********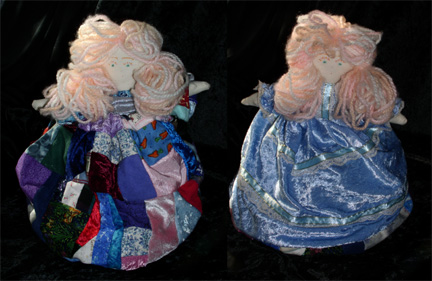 Miller's Daughter/Cinderella, too, $50
This doll was designed as the Miller's Daughter for Rumpelstiltskin, who becomes a queen, but she also fits nicely as a variation on Cinderella's Rags to Riches.  Please specify whether you would prefer the Cinderella or Rumpelstiltskin book with your order.
**********
A variation on the classic, this two sided doll has two different characters in one.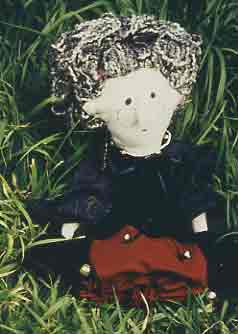 Cinderella and Her Godmother, $50
**********
I also offer the Fairy Godmother as her own pouch doll.  Either her legs have velcro pouches, or her skirt is a larger velcro pouch.  Both hide secrets well… because everyone should have a fairy godmother.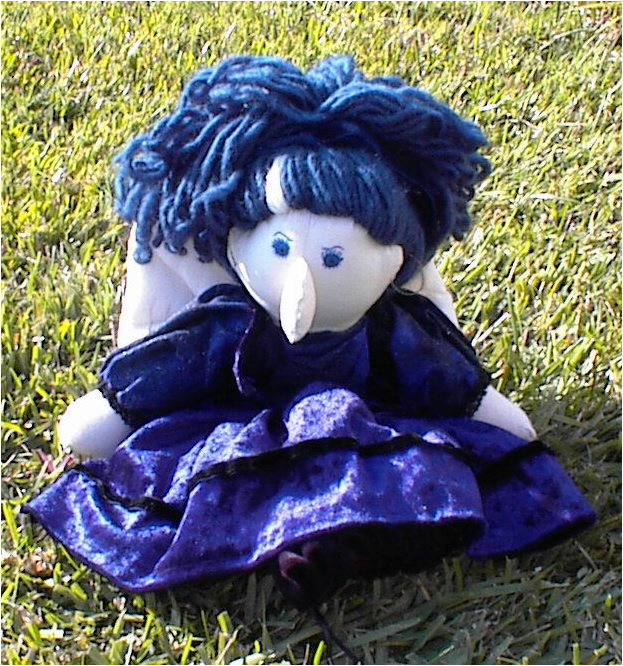 Fairy Godmother with hidden pouch, $50
**********
Some other rags to riches stories that are often tied to Cinderella include:
Little Gold Star, a tale from the American Southwest
Tien and Bian, a tale of Southeast Asia
**********
Most of our dolls and stuffed animals are reversible dolls.  If you see two or more characters in a photo, that means there are two or more characters in one doll.
All topsy-turvy dolls are made to order, so you can order a custom reversible doll with your choice of hair, dress, skin and eye colors.  Just let me know!  Please keep in mind that colors may vary slightly.
For more information on any of our dolls and puppets, please feel free to e-mail us at
Realms of Gold.
Or call us at (650) 996-2280.