The Little Mermaid Doll
A Hidden Pouch Doll
Be warned, the original Hans Christian Andersen version of this story does not have a happy ending.  My doll would be happy, however, as long as she was hugged!  The Little Mermaid has a drawstring, so she can have a fin, or legs and a skirt, depending where she is in her story.  She also has velcro pouches in her legs, so you can hide secrets within.  Approximately 15″ tall.  As always, this is my own copyrighted pattern.  The doll comes with her story in a small, handmade book.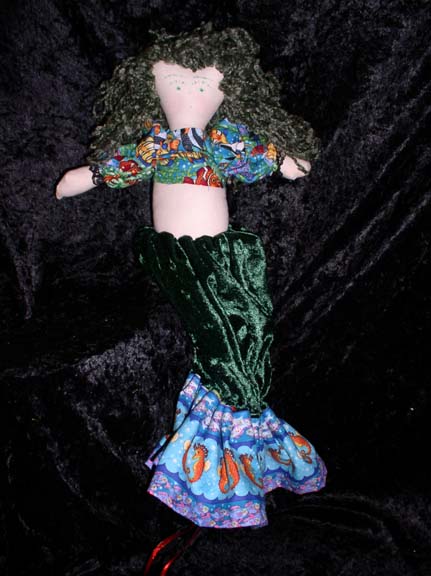 **********
Most of our dolls and stuffed animals are reversible dolls.  If you see two or more characters in a photo, that means there are two or more characters in one doll.
All dolls are made to order, so you can order a custom hidden pouch doll with your choice of hair, dress, skin and eye colors.  Just let me know!  Please keep in mind that colors may vary slightly.
For more information on any of our dolls and puppets, please feel free to e-mail us at
Realms of Gold.
Or call us at (650) 996-2280.