Dolls from Irish Fairy Tales
You may know of leprechauns, but many Irish tales are melancholy.  I've turned two into reversible cloth dolls.  I hope that you enjoy both these stuffed animal doll combinations, and their stories, and perhaps decide to take a few home with you.
Most of our dolls are reversible.  If you see two or more characters in a photo, that means there are two or more characters in one doll.
To learn more about any doll or story, or to buy one for yourself, simply click on the doll's photo or name.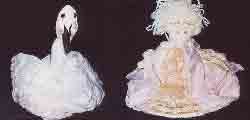 The Swan Princess, or The Children of Lir

For more information on these or other character dolls, please feel free to e-mail us at Realms of Gold. Or call us at (650) 996-2280.