The Selkie Doll
A Topsy-Turvy Doll
Irish sailors didn't see beautiful maidens with tails of fish, instead they saw seals who turned into maidens.  These selkies were the basis of many Irish legends.  The seals were sometimes thought to be born as humans, sometimes thought to be children of the sea king.  Whatever their source, the selkie is now entrenched in Irish mythology.  My selkie is a dark gray velvet seal who turns over to reveal the young girl sitting on a rock.  It follows the legend which says the seals would shed their skins to become human.  As with all of my dolls, this is my own copyrighted pattern.  The Selkie comes with her story in a small, handmade book.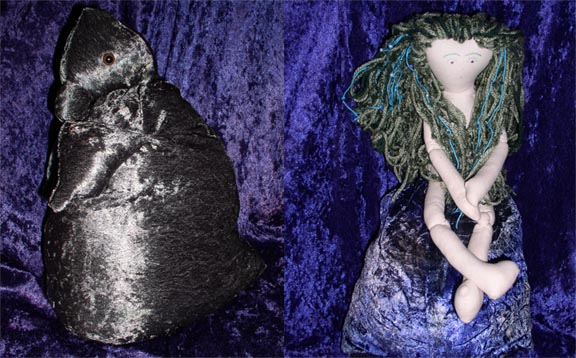 **********
Most of our dolls and stuffed animals are reversible dolls.  If you see two or more characters in a photo, that means there are two or more characters in one doll.
All topsy-turvy dolls are made to order, so you can order a custom reversible doll with your choice of hair, dress, skin and eye colors.  Just let me know!  Please keep in mind that colors may vary slightly.
For more information on any of our dolls and puppets, please feel free to e-mail us at
Realms of Gold.
Or call us at (650) 996-2280.