Dolls from
Jewish Fairy Tales and Legends
There are many Jewish legends, both in and out of the Bible.  Here we offer one of each sort.  Queen Esther saved her people when the evil Haman would have destroyed them.  The Pirate Princess is the original independent woman, who tricks pirates, merchants and kings, becomes her own queen, and has a happily ever after tale, to boot!    I hope that you enjoy both the dolls, and their stories, and perhaps decide to take a few home with you.
Most of our dolls are reversible.  If you see two or more characters in a photo, that means there are two or more characters in one doll.
To purchase a doll, or to learn more about any doll or story, simply click on the doll's name.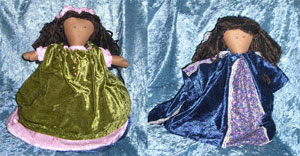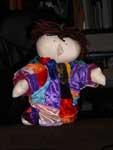 Joseph in his Multicolored Coat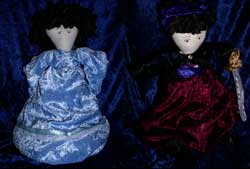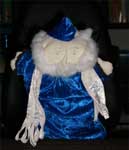 "I received the rabbi hand puppet today and delivered it to my friend this evening. The rabbi is displayed in her family room, and she LOVES it! The workmanship is fabulous. Thank you very much." Barb in MA Summer 2011
For more information on any of our dolls and puppets, please feel free to e-mail us at
Realms of Gold.
Or call us at (650) 996-2280.