Queen Esther and Purim
A Topsy-Turvy Doll and Hand Puppets
Based on the Book of Esther from the Old Testament of the Bible, this is one of the older rags to riches stories.  Esther was a merchant's daughter who caught the eye of the king.  She marries him without his knowing she is Jewish.  She then must reveal her secret to save her people from the king's evil advisor, Haman.
As a child, I had my mother's own Queen Esther doll carefully stored in an old shoe box to come out once a year. So it is no surprise that when I began making dolls, Esther was one of my early designs. Queen Esther is a reversible doll. First, Esther is in her merchant's dress, then she turns over and is dressed as a queen in velvet gown, cape, and head scarf. Approximately 12″ tall.  Completely huggable — no shoe box storage required! 🙂 As with all of my dolls, this is my own copyrighted pattern.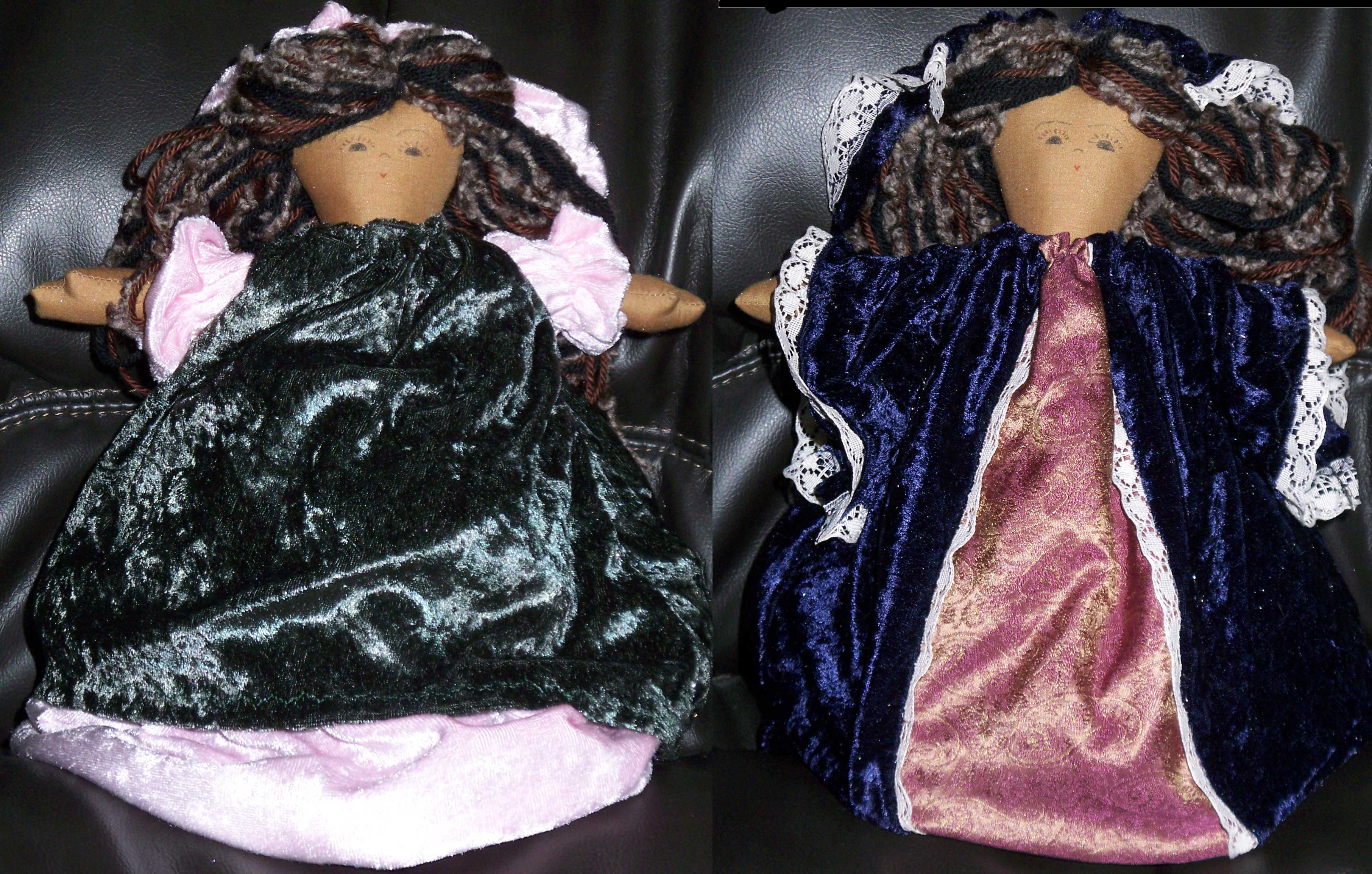 **********
All of the major character's from Esther's story are available as hand puppets: Vashti, the King, Haman, Esther herself, and Mordecai (with yarmulke not seen in photo). Each is 12-14″ tall and lined in soft terry cloth. As with all of my dolls and puppets, these are all my own copyrighted patterns.
| | | |
| --- | --- | --- |
| | | |
**********
Most of our dolls and stuffed animals are reversible dolls.  If you see two or more characters in a photo, that means there are two or more characters in one doll.
All topsy-turvy dolls and hand puppets are made to order, so you can order a custom doll or hand puppet with your choice of hair, dress, skin and eye colors.  Just let me know!  Please keep in mind that colors may vary slightly.
For more information on any of our dolls and puppets, please feel free to e-mail us at
Realms of Gold.
Or call us at (650) 996-2280.