Dolls from
Norway's Fairy Tales
Peter Christen Asbojornsen and Jorgen Moe were the Brothers Grimm of Norway.  They collected Norway's folk and fairy tales during the middle of the nineteenth century, and their stories have become classics in many fairy tale collections.   Our storybook dolls tell their stories again.  Most are reversible, showing more than one character at a time.  So click on the photos below to watch the Great White Bear become a prince and a princess, in East of the Sun West of the Moon, or just take a closer look at the troll hand puppet, the villain in most Norwegian legends.  All of our dolls are characters out of stories, immigrants from the books that Keats called "Realms of Gold."  I hope that you enjoy both the dolls, and their stories, and perhaps decide to take a few home with you.
Most of our dolls are reversible.  If you see two or more characters in a photo, that means there are two or more characters in one doll.
To learn more about any doll or story, or to purchase one for yourself, simply click on the doll's photo or name.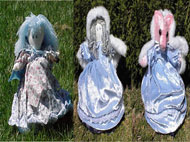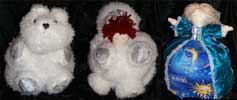 East of the Sun, West of the Moon
For more information on any of our dolls and puppets, please feel free to e-mail us at
Realms of Gold.
Or call us at (650) 996-2280.