Tatterhood
A Topsy-Turvy Doll
Based on the Norwegian fairy tale first collected by Asbjornsen and Moe, this is three dolls in one. Tatterhood is not your ordinary princess, running around in rags with her wooden spoon and pet goat for company.  But turn her over and you'll find her twin sister and best friend, who is a perfect little princess.  Unfortunately, the trolls come, and if you turn Tatterhood's sister around and pull down her cape, you'll find that they steal her head and replace it with a pig's head!  It is up to Tatterhood to take her pig headed sister and steal her head back!  Another version of the tale has the sister's head replaced with a cow's head.  I offer both as dolls.  Approximately 12″ tall.  As with all of my dolls, this is my own copyrighted pattern.  Tatterhood comes with her story in a small, handmade book.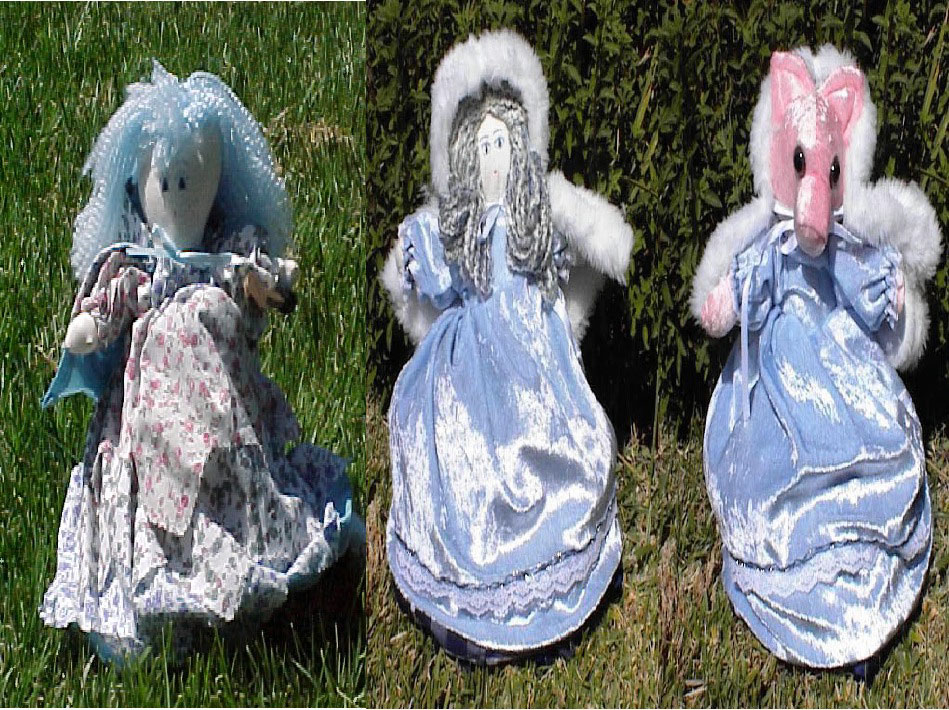 Tatterhood and the Pig-headed Princess, $60

Tatterhood and the Cow-headed Princess, $60
If you're interested in other sister dolls, check out Little Gold Star and Snow White and Rose Red.
**********
Most of our dolls and stuffed animals are reversible dolls.  If you see two or more characters in a photo, that means there are two or more characters in one doll.
All topsy-turvy dolls are made to order, so you can order a custom reversible doll with your choice of hair, dress, skin and eye colors.  Just let me know!  Please keep in mind that colors may vary slightly.
For more information on any of our dolls and puppets, please feel free to e-mail us at
Realms of Gold.
Or call us at (650) 996-2280.