Baba Yaga
A Topsy-Turvy Doll
There are so many Baba Yaga tales, they are hard to choose among! I have made two dolls based on the legends. First, Baba Yaga (holding a firey human skull) turns over to reveal the beautiful Vasalisa (or Vasilia or Vassalissa depending on your translation) and her magical doll. They come with their story in a small handmade book. The doll is approximately 12″ tall, based on my own copyrighted pattern. And for those of you who really love this tale, check out Consumed by Caroline Hamilton. It's a fabulous revenge tale for grown ups based on Vasalisa that I highly recommend!
If you don't want to dilute Baba Yaga's villainy with Vasalisa, check out my original Baba Yaga. She turns over to go to sleep in her very own chicken legged house. She is approximately 11″ tall when sitting upright.  As with all of my dolls, this is my own copyrighted pattern.
The image below shows 5 Baba Yagas and their homes all in one photo.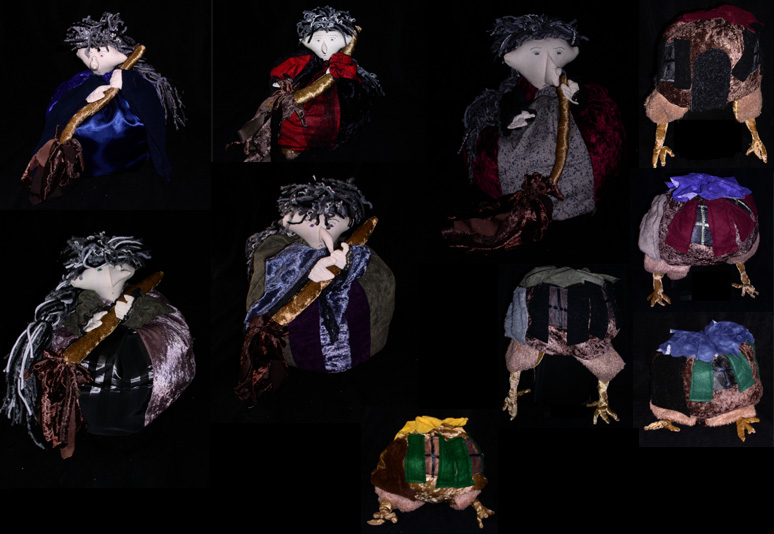 Baba Yaga and Her Chicken Legged House, $60
**********
Most of our dolls and stuffed animals are reversible dolls.  If you see two or more characters in a photo, that means there are two or more characters in one doll.
All topsy-turvy dolls are made to order, so you can order a custom reversible doll with your choice of hair, dress, skin and eye colors.  Just let me know!  Please keep in mind that colors may vary slightly.
For more information on any of our dolls and puppets, please feel free to e-mail us at
Realms of Gold.
Or call us at (650) 996-2280.