About the Hospital
The Realms of Gold, Inc. Doll and Stuffed Animal Hospital was inspired by my own childhood teddy bear. I wanted to bring him to a bear hospital for my 21st birthday, but they wouldn't fix him. Fifteen years later, when I could fix him myself, I decided it was time to offer the same service to others. You can check out my Teddy's before and after pictures here.
I rejuvenate dolls and stuffed animals so they can continue to be played with. My patients have been mauled by pets, loved nearly to death by children and adults, and come from all over the globe. All return to their families ready to be loved and played with for many years to come.
Here are some of the amazing and humbling kind words that I've received over the years for my work.
About the Dolls
At the Realms of Gold, Inc. Fairy Tale Doll Studio, we create huggable, one of a kind cloth dolls and puppets based on traditional folk and fairytale characters from around the globe. Made of fine yarns and fabrics, the dolls and puppets are as happy telling stories in a classroom, sleeping in a three year old's arms, or sitting on a collector's shelf. Many of the dolls are reversible. For instance, the frog turns over to reveal a prince, or Cinderella goes from rags to riches. Multisided dolls actually date back to the U.S. Civil War. The dolls and puppets on these pages are based on Beth's original, copyrighted patterns.
About the Artist
All of the immigrants from Realms of Gold, Inc. are created, from idea to pattern to doll, by Beth Karpas. A dollmaker for over 30 years, Beth is a former children's librarian who has combined her love of stories with her passion for dolls to bring these storybook characters to life. She has been a professional storyteller for over a decade, and has been selling her dolls since 1999. In 2003, at the request of her customers, Beth opened the Realms of Gold, Inc. Cloth Doll and Stuffed Animal Hospital, where she has healed many treasured Raggedies and teddy bears from past decades.   Beth lives in Los Altos, California with her best friend and husband, Peter, a dog, a cat, two turtles, and dolls and stuffed animals and books in every room.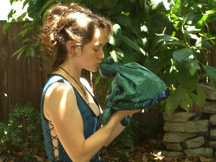 The Artist in Renaissance Dress with a Frog Prince Doll
About Our Dolls, Puppets, and Stuffed Animals
We realize that many companies and individuals compete for your doll and stuffed animal patronage. To better explain our characters, and to help you compare them to dolls, puppets, and stuffed animals from other sources, we offer the following guidelines for choosing a quality cloth companion. All of our creations meet the guidelines listed below:
Quality fabrics, yarn, threads, and stuffing: The best dolls do not skimp on supplies. Is the fabric soft? Are the colors vibrant? Quality fabrics lead to quality dolls.  We use the finest velvets, flannels, silks, satins and cottons in our dolls and puppets.  Faces are drawn with non-toxic, waterproof fabric markers which conform to ASTM-D 4236 .  
Notice the hair and limbs: How are they attached? Sturdy threads (e.g. embroidery or quilting thread) and multiple and/or machine stitching are both good signs that a doll will last.  Our limbs are double machine stitched and/or attached with sturdy embroidery threads, as is the hair on all of our characters.
Notice the clothes: Are edges hemmed as they would be on your own clothes? Are rough edges appropriate to the doll or simply a way to limit the work involved? If they are appropriate, are they cut with pinking shears to prevent unraveling?  We hem and trim all of our doll's clothes as if they were our own.  Cinderella's rags are cut with pinking shears to deter unraveling.  Princess gowns are trimmed with multiple laces and ribbons as well as detailed stitching.  Hand puppets are lined on the inside with soft terry.
Details, details, details: Are the clothes separate from the body? Are there a variety of fabrics, colors, and/or textures? Look for detailing in stitching and notions (buttons, bows, lace). Remember that type of details will vary based on doll usage. A doll for a small child will not have buttons, bows, or even hair, but it may have detailed stitching, multiple fabrics, or unique color combinations.  We quilt many of our characters, using multiple fabrics cut in geometric patterns.  Intricate stitchery embellishes ball gowns and ordinary clothes alike.  Delicate lace and metallic ribbons adorn the hair and clothing of many characters.
Layers, layers, layers: Layers of clothes, hair, body parts, all show detail of work. The more layers there are, the more time that went into creating the individual doll.  Our characters have not only dresses or jumpsuits, but capes, pantaloons, slips, shoes, hats, mittens and jewelry when appropriate.
Artist dolls: Are the dolls one of a kind? Are they made from kits or original patterns? These are questions which you may need to ask the crafter. Dolls from commercially available kits or patterns can be attractive and well made, but for a one of a kind gift, never to be duplicated, the one of a kind artist's doll is the best bet.  All of our dolls and puppets are one of a kind, made to order.  We create identical twins by special order only.
If you purchase a doll, puppet, or stuffed animal from Realms of Gold, Inc., you should know:
The characters are not for use by children under 3 years of age.
2.  Faces are drawn with non-toxic, waterproof fabric markers and stitched with embroidery thread. Plastic features are held in place with safety washers.
3. If your doll or puppet gets dirty, clean it with a damp cloth and soapy water, if needed. Do not throw your character in the laundry, as the fabrics may run and yarn hair will not survive the washing machine's agitator.
4. The character's hair is double, and sometimes triple, stitched. The limbs are sewn with heavy embroidery thread. They will last for years if you treat them with the same respect as you treat people. Arrange the hair, but don't try to pull it out a strand at a time. Hug your character, but don't take a scissor to it, etc.
5. If your character came with a story and you lose it, we will send a replacement free of charge. If you would like published sources of your character's story, we can send you those as well, simply e-mail us at Realms of Gold.
Immigrants from Realms of Gold, Inc… Huggable Quality
What our customers say about our dolls, our hospital, (and us)!
"Got 'em and I LOVE them!!! I want to send them now and forget the party! Lol. I'll be patient though so their grandparents can all ooohhh and awwww over your amazing work. They're adorable and lovely. Thank you!" Kate from VA
loves her doll.  It is her new bed time companion and has already made it to show and tell at school.  As you can probably see from the attached pictures, we had to pry it away from her before we took her to ballet class.
Thank you again for my cinderella doll….she is adorable and now sits on my stool in my doll room. — Lorraine in Santa Clara County
Thanks for adding a lot of joy to a little 4 year old's life:)  N. E., Mountain View, CA
She is here!!! I love her!!! I am proud to have "adopted" her and thank you for your part in her creation! Marla in Maryland
"I bought 3 of your dolls last year and put them away for Christmas.  They were a big hit!"  San Francisco, CA
"My niece still sleeps with her dolly.  We got it a year ago!" Palo Alto, CA
"Thanks for treating us so nicely… [she] still sleeps with her Sleeping Beauty." Foster City, CA
"I received your dolls today and LOVE them!!!!!!!!!!!!!!!…I shall sing your praises here." Oak Park, IL
"I LOVE MY GOOD WITCH/BAD WITCH!!!!  (the wart is such a great touch!)" California
"I received the puppets and they are WONDERFUL!" San Marcos, TX
"Thank you so much for fixing [my old doll]…. I am confident that she will be able to endure many years of being loved." South Dakota
"She's perfect!  She looks just like her!"  Saratoga, CA
Where in the world are the dolls?
Patients fly to the hospital (and dolls fly to new homes) from all over the globe. Here is a map showing some of their far flung homes: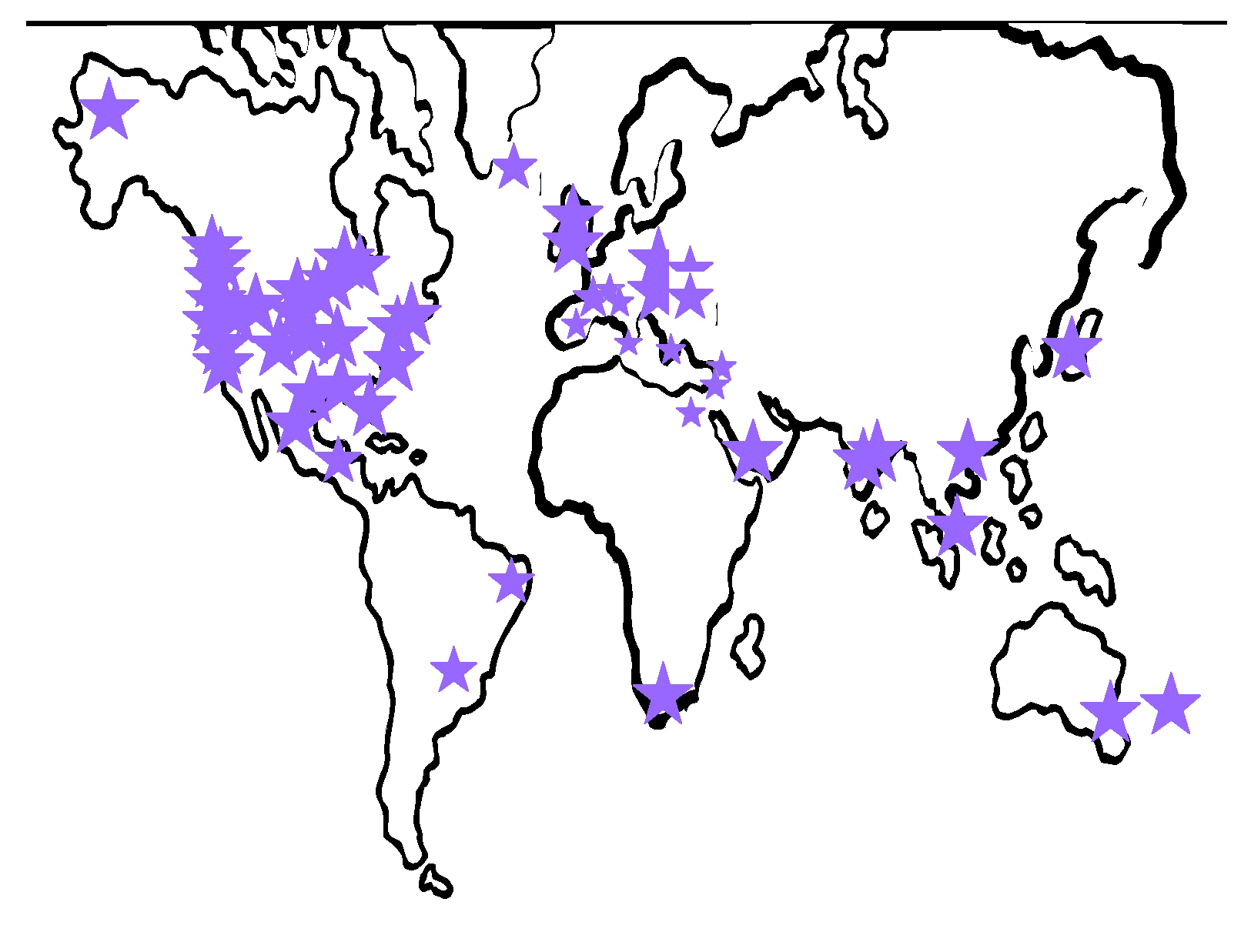 And in case you can't tell from that crowded map, we've had patients travel from every state in the union!
Visit our Los Altos Studio
Open by appointment, please call 650-996-2280 to schedule.
For more information on any of our dolls and puppets or the hospital, please feel free to e-mail us at Realms of Gold. Or call us at (650) 996-2280.